We are incredibly excited to announce that both Colorado immigrant Rights Coalition (CIRC) legislative campaign bills were signed by Governor Polis on Friday June 25, 2021 and are now law in Colorado! Philanthropiece celebrates in solidarity with our partner CIRC this historic achievement. These bills were among 11 pro-immigrant bills that have been signed into law this legislative session. 2021 will, from this moment on, be among the most historically impactful years for immigrant rights in our state's history thanks to the power of grass-roots organizing, movement builders, allies, state representatives and powerful leaders from the immigrant community that have worked together for decades to make this historical moment possible. 
2021 will, from this moment on, be among the most historically impactful years for immigrant rights in our state's history.
The systemic oppression and institutionalized racism historically experienced by immigrants were only exacerbated during the age of COVID. The majority of health and economic crises impacts from the pandemic, including deaths, affect our BIPOC community more than any other. In the wake of such crises, it's critical to continue to identify how policies and systems have been set up historically to prevent BIPOC people from having the same rights, protections and opportunities as others. For example, preventing a pathway to citizenship allows for ongoing wage theft, systemic abuse, imprisonment of Black and brown bodies, unreported domestic violence, exploitation, human trafficking, modernized slavery, unreported crimes, separation of children from their parents and hundreds of unnecessary deaths at the southern border.
As a whole, oppressive policies criminalize the immigrant identity as a means to blame the individual for their own dehumanization and excuse the violation of human and civil rights by government, for-profit and public agencies that benefit from the criminalization of immigrants. Knowing that much of this stems from harmful outdated policies, we now have the responsibility to change the dehumanizing policies that allow such injustices to continue.
Philanthropiece established "advocacy for protection of immigrant's rights" as the highest priority goal for our 2021 Latinx Leadership & Immigrant Rights initiatives. To use phrases coined by local advocates and activists over years of struggle, we recognize that "immigrant rights are human rights," that "no human is illegal," that "families belong together," and that "home is here." More specifically, Philanthropiece's vision for advocacy is to obtain protection from government/systemic attacks for ALL vulnerable people, especially undocumented immigrants; to change all existing harmful political policies that push vulnerable community members to the margins; and lastly to create new local, state and national policies that lead to the full integration of immigrants as welcomed contributing members in our cities. Philanthropiece is proud to support local Latinx Leadership & Immigrant Rights initiatives like Voces Unidas of Boulder County; the Latinx Advisory Committee to Congressman Joe Neguse; DACA Renewals; Dream and Promise Act & Road to Freedom Campaigns; the Cultural Brokers Resiliency Program of Boulder County; Parents Involved in Education of SVVSD; and Colectivo Cultura.
As a whole, oppressive policies criminalize the immigrant identity as a means to blame the individual for their own dehumanization and excuse the violation of human and civil rights.
It's equally critical for Philanthropiece to connect with larger networks like CIRC that focus on policy change and systemic change work. We have believed in CIRC's work since we first learned of their mission to improve the lives of immigrants and refugees by making Colorado a more welcoming, immigrant-friendly state through non-partisan civic engagement, public education, and advocacy for workable, fair and humane immigration policies. Philanthropiece has committed to this work by becoming a CIRC member organization and helping with grassroots organizing actions in the north region of Colorado for more than 6 years. Over the years, we have focused our work on changing operations of traditional systems (school districts, financial institutions, public service institutions, and local governments) that exacerbate the discrimination and marginalization of immigrants. This year, we expanded our focus to include the development of a pathway to citizenship for all immigrants in the U.S. through national legislative reform and local mobilization of policy makers.
We worked tirelessly in 2020 to
Elect pro-immigrant champions in the state legislature that supported our policy campaigns.
Focus on coalition building and organizing political entities to help us move and lobby specific lawmakers.
Support our C3 lobbying team by leading a legislative communications campaign that focused on attaining both earned media and social media exposure.
For this reason, these big state legislative wins are integral to the work Philanthropiece has committed to, and we'd like to take a moment to celebrate them with you! The following are the 3 CIRC priority campaign bills that were successfully passed this year. They accompany 11 other important bills won for reproductive rights, child protection, extortion protection, language justice, workers rights, equitable housing, business licensing, and public benefits.
Legal Defense Fund
HB21-1194 is a great first step for Universal representation in Colorado immigration court! HB21-1194 establishes a statewide Immigration Legal Defense Fund, making Colorado the first state to create a fund through law. This legal defense fund will create a grant program for qualifying, experienced nonprofit legal service providers to do pro-bono legal representation for individuals in removal proceedings, with a focus on detained representation. All cases taken on will be guaranteed legal representation until the case is concluded; unless the client stops meeting the eligibility requirements or the client no longer resides in the state. Our bill also clarified the law to give power to and encourage local counties to form their own legal defense funds or contribute to the statewide fund.
Protection for Personal Identifying Information
SB21-131 has passed with bipartisan support and has been signed into law! The bill prohibits the sharing of personal information with ICE or a third party without a court-issued subpoena warrant order and sets parameters for tracking the violation of this new law. We have been fighting to protect Coloradans from local police acting as ICE agents since 2006, when the racial profiling "show me your papers" bill of SB90 was passed. Since then we have repealed SB90, prohibited ICE detainers and ICE arrests in courthouses, and created the SB251 license program for our community to access a drivers license. As we've continued to limit ICE activity in our state, ICE has become increasingly reliant on surveillance and data sharing in order to track and detain our community members. SB131 stops agencies like ICE from accessing our personal data from state agencies like the DMV for immigration enforcement. SB21-131 will create guidelines for all state agencies to protect personal information held by the state.
Farm Workers Rights 
One of the most historic bills passed this session was SB21-087, the Agricultural Worker Rights bill: one of our secondary priorities as a coalition. It requires farms to pay workers the state minimum wage of $12.32 an hour, or local minimum wages if they're higher, and not just the federal wage of $7.25. It allows agriculture employees to join unions and collectively bargain; requires overtime pay for agriculture workers; requires meal breaks and rest periods; limits the use of short-handled tools; requires workers have access to key service providers, especially on employer-provided housing; requires employers to provide additional safety and protection for workers during public health emergencies; creates a Agricultural Work Advisory Committee to study and analyze agricultural wages and working conditions; makes it easier for employees to report violations and provides whistleblower protections; and lastly allows farm workers to pursue legal action against employers who violate these protections.
Other great immigrant rights wins this year:
Undocumented Women COLOR's bill, SB21-009
SB21-009 will expand Medicaid to cover a year's supply of oral contraceptives for undocumented people. This bill was sponsored by Senator Jaquez Lewis and Representative Caraveo.
HB21-1313 Child Protection Ombudsman and Immigrant Children
Led by Representative Benavidez and Gonzales-Gutierrez, HB21-1313 will give the state Ombudsman the authority to investigate facilities that house unaccompanied minors in state-licensed residential childcare facilities in Colorado when they receive a complaint related to a child's wellbeing.
HB21-1150 Creation of the Office of New Americans
Led by the International Rescue Committee, HB21-1150 creates the Office of New Americans (ONA) within the Colorado Department of Labor and Employment as a state resource for Colorado immigrant communities. This is also where we are hoping to house our Immigration Legal Defense Fund once the office is officially created.
HB21-1011 Multilingual Ballot Access
Common Cause successfully led HB21-1011, which expands access to translated ballots and creates more resources during elections for language justice, including an interpretation hotline for elections.
SB21-077 Remove Lawful Presence Verification Credentialing
SB21-077 expands access to all professional licenses for the undocumented community. Lawful presence would no longer be required for any applicant for any state or local professional license.
HB21-1060 U-Visa Standardization
RMAIN and the ACLU of Colorado led HB21-1060, which sets standards for the certification process of U-Visas and ensures law enforcement follow the guidelines necessary to inform victims of their right to obtain u-visa status.
HB21-1054 Housing Exception for Public Benefits
HB21-1054 was run by the Department of Local Affairs (DOLA). The bill removes the previous requirement for DOLA and other agencies to ask for an individual's proof of lawful presence before receiving any state or local public housing benefit.
HB21-1057 Extortion Of Immigrants Engaging In Lawful Acts
HB21-1057 makes it illegal to extort or threaten someone based on their immigration status to commit a crime or to keep them from reporting a crime.
SB21-199 Remove Barriers To Certain Public Opportunities
SB21-199, led by the Colorado Statewide Parent Coalition, repealed HB1023, making it easier for local jurisdictions to open up public benefits to undocumented community members through local ordinances.
SB21-233 CDLE Study to Create Parallel Unemployment Insurance for Left Behind Workers
Led by COPA and CFI, SB21-233 commissions a study by the Colorado Department of Labor and Employment (CDLE) and the newly created Office of New Americans (ONA) to create recommendations for a wage replacement program for those who are unemployed through no fault of their own but are ineligible for regular unemployment due to their immigration status.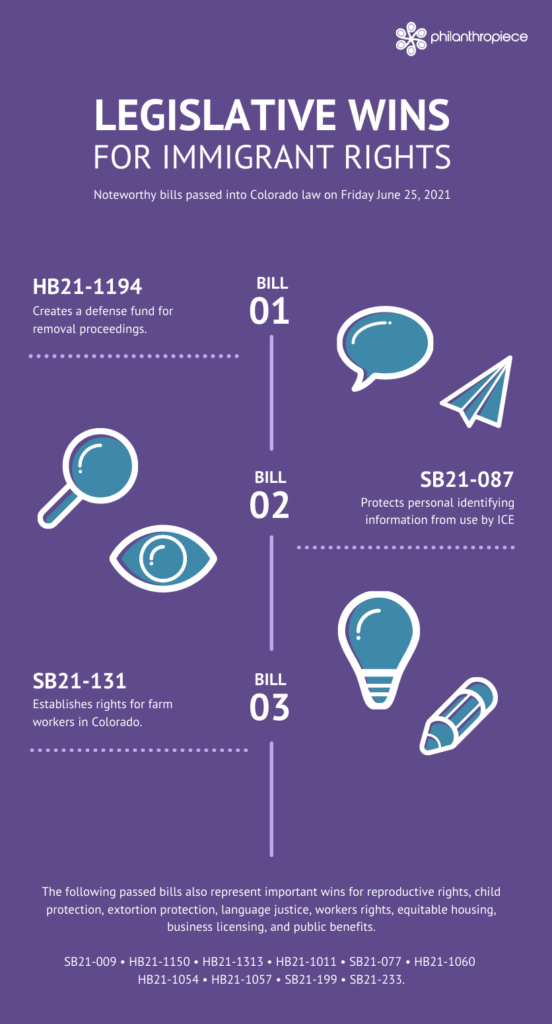 These wins were made possible by Coloradans who organized in their communities, lobbied, testified, signed petitions and shared on social media, emailed, texted, called to their state representatives, and donated so that we could get these bills over the finish line. Because of them, the year 2021 will forever go down in history as a "sweeping year" for great legislative wins for immigrant rights.