A crew from the Philanthropiece team – including Alicia Conte, our Youth Global Leadership Program Coordinator, Jake Matlak, our Associate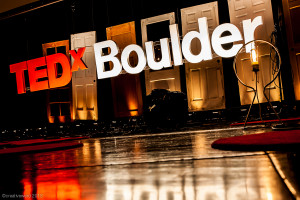 Director of Programs, and Jordan Bailey, our Field Coordinator – had the great opportunity to attend TEDx Boulder a few weeks ago, and came away inspired. Here's what they had to say about it and a few of their favorite moments.
Alicia's Thoughts: TEDx Boulder was a wonderful event, which captured one aspect of our town that makes it so special– the inspiring, action-oriented, innovative changemakers who live here. For me, TEDx is a community space for storytelling, and for listening and learning. Everyone is made up of so many different stories, and TEDx provides a platform to highlight them, and to have them be absorbed by the community. In the spirit of the evening's theme, "Fear and Loathing," some speakers challenged us to ask ourselves "What is your fear edge?" We were promoted to find and follow these frightening spots, as they are the places that challenge us, and are the fertile grounds where growth occurs.
Alicia's Pick: Shawn Heinrichs, cinematographer, photographer, and marine conservationist, particularly piqued my interest, as he
reminded me of the sea turtle conservation research project that I was part of during my time with the School for International Training on the coast of Nicaragua. Shawn highlighted what's often missing from conservation efforts – a humanistic, non-scientific approach.
Jordan's Thoughts: It was an absolute treat to attend TEDx Boulder.  It makes one ask the tough questions, it challenges the status quo. It makes you want to be a better person and encourages you to realize there is so much good that needs to be done in this world…and that our silence is not acceptable.
Jordan's Pick: Ash Beckham, a gay activist, was an extremely gifted speaker that had me wanting to hear more of her thoughts and
opinions. I appreciated how she spoke of how every one of us has a closet of some sort – whether it be of fear, love, etc. – that we can recognize and make attempts of getting out of.
Jake's Thoughts: There was a strong community vibe at TEDx Boulder; I appreciated that the flood victims and the flood "mudslingers" were recognized. This was a volunteer-run event, and it was evident that a lot of hard work went into producing it. The diverse range of topics aimed at stimulating conversation, thought, and inspiration.
Jake's Pick: Erica Chenoweth, professor of International Studies, discussed the power of nonviolent resistance. Her research has
shown that nonviolence has double the success rate and four times the participation as movements that include violent activities.
Check out the TEDx Boulder youtube page for videos – coming soon! – of these 2013 talks and be inspired by more local changemakers at the Ignite Boulder event coming up on November 6th. We'll see you there!