On its 13th year anniversary Latino/a Advocacy Day (LAD) shouted "Representation Matters," gathering over 300 people to rally together from across the entire state of Colorado.
"You're looking at future representatives, future senators, future city council members right here in this room," State Sen. Julie Gonzales of Denver said to the participants during LAD on Monday, March 11th. Gonzales was in fact once a community participant in the event. She later participated as an organizer, helping train others to lobby and get involved in the political process. "I've said for years, if you're not at the table when policies are being contemplated, more than likely it's because you're on the  menu," Gonzales said. "So to see hundreds of Latinos and Latino community members and their allies here at the Capitol to advocate is super exciting."
We finally have a majority of democrats in the house and the senate, a democratic governor and the biggest number of Latino representation in seats, this is something unprecedented. And representation matters, as Senator Gonzalez said! It has been a big effort from many community partners and spanning over many years of work to pull-in elected officials that will give our communities progressive representation and will deliver to our most marginalized , vulnerable members the protections and liberation they are crying for.
LAD is set to be a day when Latinos from all around the state (regardless of past experience) come together in solidarity with allies to lobby our representatives at the state capitol about the issues we consider are most affecting our communities. This collective lobby day gives Latinx community members including high school students, undocumented members, and leaders from all corners of Colorado a chance to learn more about what their legislature is up to and to meet one-on-one with lawmakers. We are trained on the specific bills/policies that are currently on the table, prepared with talking points and motivated to use the power of our personal stories to show our government how their decisions on legislation truly affect our community. The policies Latinxs chose to support this year included largely progressive platforms, that benefit all of Colorado. We lobbied for bills that cover immigration justice, criminal justice, reproductive justice, environmental justice, and economic justice.
As active members of the Colorado Immigrant Rights Coalition (CIRC), Philanthropiece sent Laura Soto, Operations Manager, to LAD to leverage her relationships and expertise on immigrant issues to address the bills CIRC is leading this year. These bills include: Virginia's Law that asks for protection from ICE coming into safe public spaces; SB-19-139 (from the I Drive campaign) which asks to expand the existing program made into law in 2013 that currently offers only three DMV offices to provide driver's licenses to undocumented community members; and the People's Resolution that asks to address the broken immigration system at the national level by having Colorado legislature endorse the resolution that will be presented in Congress.
Laura had the honor to take the lead in speaking in favor of these policies to Rep. Jonathan Singer, from Longmont and extending west
mountain areas; Sen. Steve Fenberg, Majority Leader of the Senate from North Boulder; to the assistant of Sen. Jeni Arndt from Fort Collins and the assistant of Rep. KC Becker, Speaker of the House from Boulder. An even greater honor was to mentor and accompany other Latinxs participating in LAD for the first time! Amazing, strong local community leaders like Patricia Miller, who started Alianza NORCO in Fort Collins two years ago and is a member of CIRC; new Estrellas members, who are young high school activists from Yuma, CO and our new CIRC North Regional Director, Lorena-Fuentes Ibañez.
The strongest take-away from LAD is REPRESENTATION most definitely MATTERS! When the faces and values of our elected government officials reflect the faces and values of the community they serve is when you know they are truly representing them. When the community has a say at the table in shaping the policies that affect them directly is when you know that the policies truly represent them. When opportunity is given equally to take leadership in the direction of local and national issues is when you truly know local and national issues are being addressed. This is why civic engagement matters, representation matters, solidarity matters, sharing the stage matters, uplifting all voices matters, power to the people matters!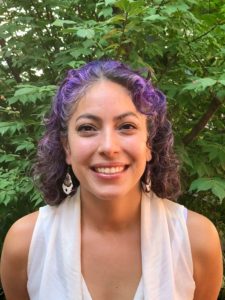 Laura Soto is Philanthropiece's Operation Manager. She is an active participant in CIRC, a task member of Parents Involved in Education (PIE), and an artist who shares her lived experience via performance and spoken-word poetry.