The Parents Involved in Education End-of-Year celebration was a HUGE success! Despite the snow storms in April requiring the awaited event to be rescheduled many

times, the community still came together to celebrate the hard work everyone has done in supporting student achievement in our local Latinx youth. The event held at the Longmont Museum on April 25th was authentically representative of the LIVE Latinx culture, community and collaboration that exists in the City of Longmont! Philanthropiece, a member of the Parents Involved in Education (PIE) collaboration, was happy to take part in celebrating this wonderful culmination of hard work done throughout the entire school year by so many!
The celebration included teenagers playing their heart out with their Mariachi Band from Timberline Middle School for their parents, small
elementary students nervously showing off  traditional dance moves learned from their elders being cheered on by the audience to shine on stage, Saint Vrain Valley School District's full support in presence, programming and funding, hard-working families, collaborating community leaders and amazing presenters; all resonating the powerful message of unity and love for our community. Awards were given to everyone who works year-round to help overcome struggles that families endure while striving to raise successful students, including the parents and children as well! Recognition was given to the PIE leaders working in different public service positions who leverage their position to connect the community with the resources they need, the families raising and nurturing new leaders, the schools doing amazing work in educating them, and the beautiful role models we have of success stories that break down barriers of inequity and injustice.
This year we were fortunate to have Sonia Gutierrez, bilingual news reporter from 9 News as the Keynote speaker sharing her story of making her dreams come true amidst her struggles as an undocumented student; and Longmont Youth Center's leader Jenny Diaz-Leon & Mom sharing their story of resilience in pursuing education against all odds even in her senior years.
This event was yet another great example of the value in celebrating our small and big achievements together to build resiliency and the good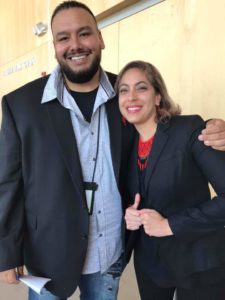 impact we can have when people truly come together for a cause that benefits the whole community. Philanthropiece is proud to have a part in bridging the education gap with our Latinx children by being being part of the important collaboration throughout the school year, including having Laura Soto, our Operations Manager, be a strong voice and advocate on PIE's task force.  The PIE celebration was such an inspiring event, we can't say enough to describe all the beauty we saw of community building that night! The feeling in the atmosphere was of validation, hope, appreciation for hard work and real love towards the marginalized; unity, understanding and solidarity from the positions of leadership in the school district and Longmont community. There was also a feeling left of being able to overcome any hardship together. It was a true honor for Laura to help with the organizing needed beforehand, with the interpreting during the event and the Master of Ceremonies duties. All at Philanthropiece look forward to further collaboration with PIE!
Laura Soto is Philanthropiece's Operation Manager. She is an active member of the Parents Involved in Education (PIE) Taskforce, the Colorado Immigrants Rights Coalition, Community Language Cooperative and is an artist who shares her activism via performance, spoken-word and written poetry.